Durango Joes Mug Club

On Sale November - December 2023

Renewing Members get 10% off during November and December
*Discount only available in-store
Mug Club is back this year with the same Legendary perks and MORE options so you choose what works best for you!
Option 1: $110
Mug Club Membership without a mug
Option 2: $135

Mug Club Membership with a mug
Each Member gets a brand new Mug Club Account that syncs automatically throughout the entire company, no card needed. Sign in with your Phone Number or Using the QR Code in the new Durango Joes Rewards App. Upload money to your account to earn points and free drinks, plus enjoy all the other Mug Club perks you know and love!
$1 Uploaded = 10 Points
250 Points = FREE Drink
Purchase in-store or through the Durango Joes App!
Free Durango Joes Mug of Your Choice

Choose a free Durango Joes hot or iced mug, up to a $29.95 value when you become a member!

50% Off Your Drink, All Day Mondays

Elevate your Mondays with 50% off any menu drink, every single monday!




Starter balance of $25 + a Free Drink


When you sign up, you instantly start with $25 on your Mug Club account and earn a free drink!

Earn and Redeem Points for Uploads

Earn 10 points per dollar that you upload to your Mug Club Account! Points are stored and can be redeemed at any time.
Free Drink every 250 Points

(Usually 300)

Mug Club points go further! Earn a free menu drink when you spend 250 points. Regular customers have to spend 300.

Exclusive Bonus Point Days

and Free $5 Gifts

Only our Mug Club Members receive an extra 250 points or $5 credit to their account each month. Use them on your terms!


10% Off Joes Gear & Retail Coffee


Mug Club Members automatically get 10%off all Joes Gear merchandise and retail bagged coffee when purchased in-store.
Plus, We Donate $10 from Every Membership Sold to Local Boys & Girls Clubs

Mug Club is a fundraising event that benefits the Boys & Girls Clubs of Durango, Aztec, and Farmington, helping to provide funding for local youth programming!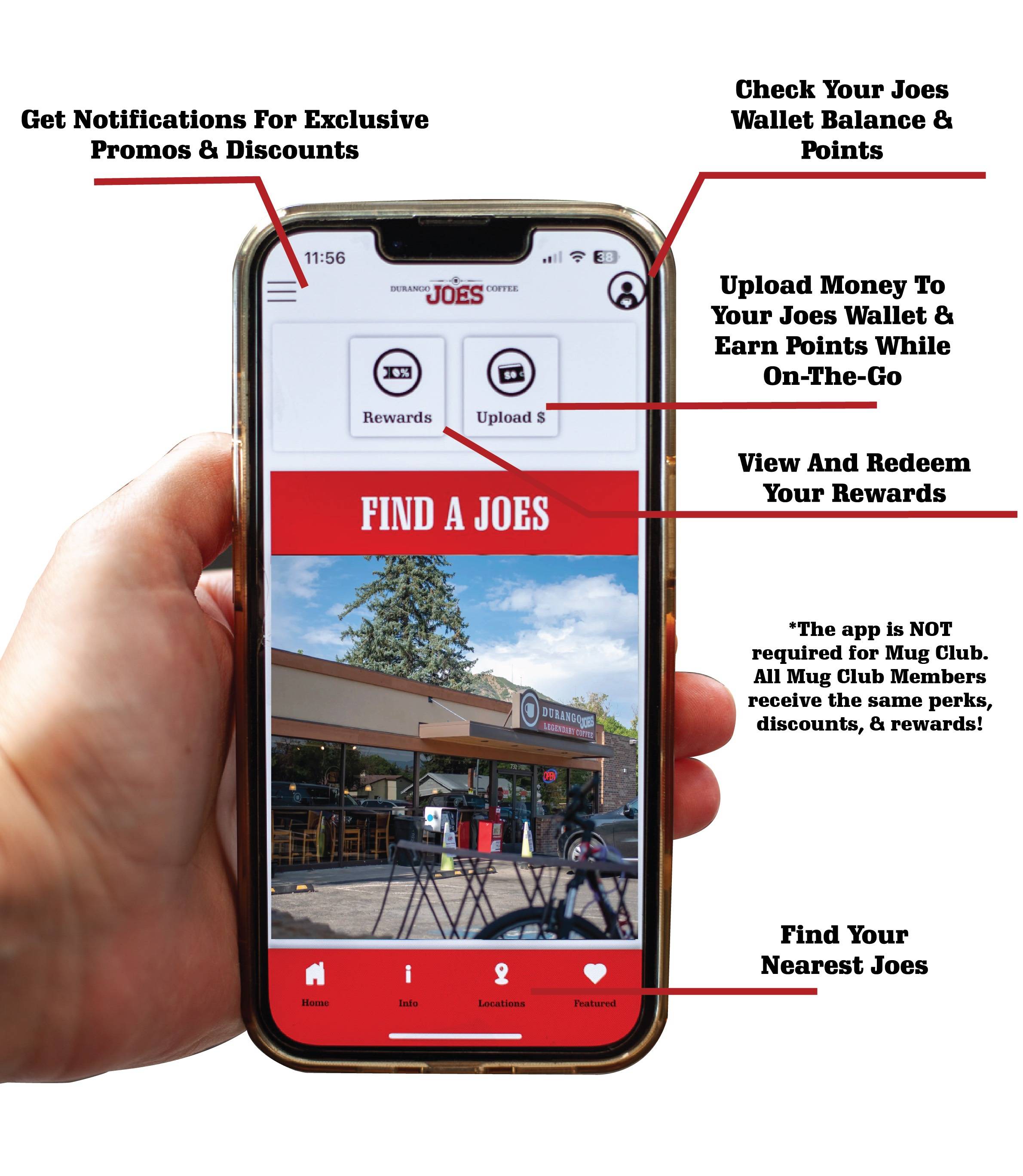 What our Mug Club Members are Saying
"If you love coffee, this is for you!"
"It pays for itself, over and over. A very good value!"
"It feels nice to get rewarded for purchases you already make."
"More than anything, the employees at Durango Joes make the club fun and enticing."
"I really love that [Durango Joes] gives back to the communities that they're in."